Yupper, Droopy looks like me this morning!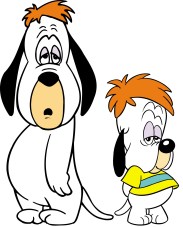 That dang pager of Tony's went off
You just want to reach out and touch some
people that have no common sense at those hours!
10:50pm, a foreign lady calls about having no
electric. AEP was out on the property earlier
yesterday shutting off a handful of people's electric.
If you don't pay your bill for a couple months
then you don't get electric. There's nothing
a maintenance guy can do about that!
And 2:30am, ahhhh, some dudes call
about there toilet running. Really?
Better go catch it at that hour.
Tony did go out on that call though.
We didn't get back to sleep til around 4:30-5:00am!
I can't sleep when Tony's not home at that hour.
So let's see, I went to bed around midnight
after watching my programs and ended up
with only about 3.5 to 4 hours sleep.
Didn't help to take that long nap yesterday either.
My eyeballs feel as though they are drooping
While I am thankful for the overtime Tony gets
I sure do wish it was during some more normal hours.
Gonna be a sloooow morning for me.
Don't want to hear the kids say, " I'm tired"
this morning upon waking them up!
I'll show them what tired looks like! LoL.
------------------------------------------------
Don't know what the deal has been with
my face breaking out lately but it was getting
very annoying and was looking awful. Most pimples were the kind
that were deeply embedded under the skin and hurt.
Everything I was trying wasn't working.
I was washing my face 2-3 times a day
with all sorts of stuff with no results.
I then remembered one time finding
a Proactiv kit in a vacated apartment.
I only tried the renewing cleanser.
It had lots of scrubby particles in it to slough
off any dead skin. Kind of tingled and burned
because of the salicylic acid in it which also helps
to remove dead skin.
Something must be working. By the next day I
noticed the pimples drying up.
It says to use morning and night.
This would be good for teens with acne.
I usually finish my cleansing with an
Avon moisturizer to keep my skin from drying out too much.
I was thinking about trying it on my youngest son
who has Keratosis, bumps on his arms, back, chest and face.
He's had this all his life and he's 11 years old now.
I saw on the Proactive commercials that people were
now using it on other parts of their bodys
to clear up other pimply bumps.
Will give it a try on him and let you know
if it works to clear it up.
-------------------------------------------
Today for supper I'm making
Buffalo Balls
I'm going to use a combination of two recipes
I found for them.
Mini Spicy Buffalo Balls from Martha Stewart.
Buffalo Balls
I like that the one uses cream cheese in them
but the comments say they maybe too runny.
I see in Martha's recipe that she uses
bread crumbs. That may help hold them
together better.
I don't have bleu cheese and will use
ranch dressing in it's place.
I also don't have any ground chicken so will
look to see if I have any ground sausage, turkey
or as a last resort will use deer burger.
I don't know what to serve them with so
was thinking about making Buffalo Ball Subs
using Hillbilly Housewife's recipe for rolls/buns.
I added a couple dashes of crushed
garlic and parsley to my bread dough.
When you don't want to run to the store,
waste gas or don't have the money,
you make your own from scratch!
Here I have some roll/bun dough going
in the bread machine. Along side of the
bread machine is my crock pot with some
chicken drumsticks, water and chicken bouillion in it.
Well I am officially out of yeast after
this batch of dough :'0(
This is the yeast I use in the jar.
It is much cheaper than buying many of
those packets!
I store the jar of yeast in my fridge.
It has lasted me a long long time!
I figured I'd get a head start on tomorrow's supper
of chicken and homemade noodle soup
by cooking the chicken now and removing the
broth to set in the fridge overnight
so the fat will rise and be easily removable tomorrow morning
for the soup. I plan to use a can of Progresso
Recipe Starters creamy roasted garlic
that I got free off Facebook in the soup.
I'm loving all my cheapies and freebies.
My bread machine was found when they
did a sit out at Tony's work.
The person never came back to claim their
items from their apartment.
The Crock Pot was a recent find at a yard sale
for only a buck!
Why spend tons of money when you don't have to!!
Oh, the other day when we found all that
stuff from another vacated apartment
I forgot to show you the 4 skillets I found.
They had really nice teflon on them.
I gave them all to mom and will get
a picture this afternoon when I go and
pick the boys up from their bus stop.
Mom loved the skillets and tossed 4-6
of hers that were all scratched up.
She said she's been needing new skillets
and I was glad to of helped and saved
her bunches of money from having to
buy new ones.
10:15am
Got 5 buns made for tonight's supper and
4 dinner rolls to go with tomorrow's soup.
I turned down the heat to 69 degrees this morning.
All the baking this morning has
the house temperature at 74 degrees.
Gotta love when that furnace doesn't come on.
Remember I still owe half my electric bill
from last month so are trying to cut back
everywhere I can to make up for that this
coming month.
Time for a nap!!! Sooo tired!!!
------------------------------------------------------
American Greed if ya ask me....
It could become illegal to resell your iPhone 4, car or family antiques
About like the time they wanted to ban people
from growing their own gardens!
What's next???
-
-----------------------------------------------------------------
3:00pm
Oh dear God why are you punishing me?
It's so quiet during the day without kids here
and I thank YOU for giving me that time for rest.
But everyday I go down to pick all three kids up
from the bus stop and wait and wonder
how it will turn out. One day they are the best of
buds and the next they can't stand one another.
I've told y'all my shoulder has been hurting
for about the past week pretty good.
It's not on top where it usually gets tender
but where it rotates around like I may have injured/tore
it possibly pickup up something heavy like laundry.
But anyways I'm at moms waiting outside
and the kids start walking from the bus stop
to her house. Next thing I know is that one
of my children and the other kid I pick up
is in a full duke out, pushing shoving,
throwing punches, book bags flying and then
on the ground wrestling.
I'd get in between them and break it up
and then they'd go back at one another full force
having to break it up 2-3 times.
Yup, my shoulder feels really good now!!
So when I got home I knew I had to call
that child's grandma and tell her what happened.
I don't lie and take sides and told the grandma
I've only heard one side of the story and
know there is a second side and I'm sure
they don't match up. All I know is that
they were fighting and wanted to let you know
and to make sure her grandson got home ok
since he walked off in a huff.
Neither me or her understand boys.
One week they are best friends and the next
they can't stand one another.
She is so easy to talk to and understanding.
I am so glad she sees it my way of not pointing
blame at one individual as they were both at fault.
What I can't stand now a days are these parents
that don't think there children do anything
wrong and try to stick up for them.
I have been there done that at a principal meeting
one time where they called in about 4-5 parents.
I swear I was the only one having my child
take responsibility for any actions my child may have done
while the other parents whined to the principal
about not being fair and that their child shouldn't
be blamed for stuff. And we wonder why
some kids are the way that they are.
And if that above wasn't enough my other child
shows me his shirt where a kid took a marker
and drew across the front of it at school today.
That child got in trouble and the assistant principal
took a photo of his shirt to show the other
kids parents. This is not that photo but one
I took to show you.
Do you ever have those bad days where you
feel like you are being tested for something.
Yup that's one of those days today
between getting hardly any sleep and
all the crap after school.
Anyway y'all I told you I was going
to get photos of those skillets I found.
Here they are.
A closer view.
They were really nice.
It's now 3:35pm and I better get started
on my Buffalo Balls. After searching all freezers
high and low for some turkey or sausage
and not finding any, I have to resort to
using deer burger instead.
First I need some Tylenol!!!
I'd really like to just go back to bed
or crawl under a rock somewhere and hide.
4:45pm
Got the meatballs made and put in the oven.
I made 20 of them, 5 per sub.
I put them on a cooling rack and then
put the rack on a jelly roll sheet with sides
to catch any fat drippings.
I had some meat mixture leftover so
quickly made up another freezer meal with it.
I pressed the meat into the bottom of
a meatloaf pan.
Topped it with 2 slice of American cheese.
Then made up some instant mashed potatoes
with a little milk, water, ranch dressing,
salt & butter then sprinkled paprika on top.
Put a piece of aluminum foil over top
and labeled it and put it in the freezer.
If I was more energetic I would have
made it with layers of meatloaf, mashed potatoes
and macaroni and cheese instead of cheese slices.
Still having one of those days though.
I spilled a freshly poured glass of pop all
over my counter while fixing supper. And if that wasn't bad
enough this morning around 4:00am I spilled
another glass of pop on my bedside stand.
I still have yet to have the furnace turn on today
after baking bread this morning
and baking meatballs this afternoon.
It's set at 69 degrees and holding at 72 degrees.
Gotta love it. I know I do when I'm saving money.
Got my bread buns sliced.
I took a stick of butter and ran it across
each piece and topped with some garlic seasoning.
I'll grill these in a skillet before
adding the meatballs with hot sauce,
ranch dressing, cheese and lettuce.
Grilled up the buns with a bacon press.
Then mixed up the hot sauce and butter and
put the metal bowl on the back burner
which is also the oven vent
to melt the butter. No need to turn
I didn't think there was enough hot sauce
on just the meatballs so I poured some leftover
sauce onto half my bun and let it soak in.
That was just me though, lol.
I love Franks, I put that sh*t on everything!
Hey, do you think you can make some kitty treats
with some of this here flour??
Boy that was fast! Thanks mommy for
Kitty Boo Boo: Hey Kitty Mow Mow,
do you think you can tell me a bedtime story?
Kitty Mow Mow: Did you ever hear the
story of the ghost cat who had long sharp teeth
and glowing yellow eyes? Whoooo hooooo!
Kitty Boo Boo: (Looks worried)
Enough with the ghost stories now
give me a goodnight kiss.
Kitty Boo Boo: Can I sleep with you I'm scared.
Kitty Mow Mow: I should of never told him
that scary story. Now I have to share my bed with him, grrr.
Ok I was having a sugar tooth and needed some cookies!
I usually buy a pack to have on hand from Kroger
but haven't had any due to funds.
(I'm splurging tomorrow which is payday to get some, lol)
To get by for now I found a package of Betty Crocker
chocolate chip cookie mix, mixed it with
a box of white chocolate instant pudding mix,
an egg and 1/2 cup butter.
Sitting here patiently waiting for them to get done.
There's nothing like warm chocolate chip
cookies straight from the oven!
Plus by having the oven on I'm hoping to
warm the house up one last time before
going to bed. I upped the thermostat to 71
because it gets chilly overnight.
Right now it's 73 in here thanks to the oven.
It's 59 degrees out now going down
It's 9:20pm, cookies are done, heading
back to bed with a few to watch some tv.